'Ribs!!! Smokin' Dave's Favorite.'
FIRST OF ALL WE WOULD LIKE TO THANK YOU FOR VISITING OUR HOME ON THE WORLDWIDE WEB. SMOKIN DAVE'S BBQ AND CLAMBAKES IS THE BRAIN CHILD OF DAVID SAMMARCO, OWNER AND CHEF OF DAVID'S CATERING OF ARLINGTON MASSACHUSETTS. SMOKIN' DAVE'S WAS BORN OUT OF CHEF DAVID'S
INTENSE PASSION & respect FOR BBQ AND CLAMBAKES.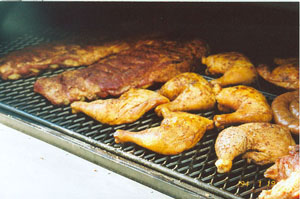 As a youngster, david would help his father put on SUMMER bbq's and clambakes for up to 300 people, the old school way. Depending on the job, we used either several halved 55 gallon drums, or constructed cinder block trench's with iron rods & steel mesh, truck loads of charcoal, tons of hickory, LOTS OF zesty RUB, plenty OF PATIENCE & always slow and low!!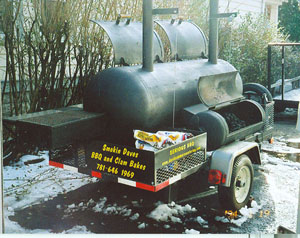 So the love affair started at a very early age, and has only Gotten stronger. Over the past few years david's catering bbq and clambake business has grown considerably, ever since his winning best bbq and best chili in a regional competition a few years back. So what he has been doing to meet this increased demand, is carting around 6 to 8 grill/smokers/propane cookers, on a utility trailer, To a particular EVENT. He then thought TO HIMSELF, Wouldn't it be nice to have one unit that would do it all, One unit that could smoke/bbq/grill, and BE Used for clambakes ALL At the same time. chef davID stayed up night, after night, going over the design in his head, finally it came to him.
SO HE HAD IT BUILT, A REMARKABLE PIECE OF EQUIPMENT, THAT DID, DO IT ALL . that's how Arnold was born. ARNOLD IS THE NAME OF THIS AMAZING UNIT, AND IN TURN, THAT'S HOW SMOKIN' DAVE'S BBQ AND CLAMBAKE'S CAME TO BE. ARNOLD CAN TRAVEL ANYWHERE, YOU JUST NAME THE LOCATION AND WE'LL BRING HIM TO YOU. WE ARE TALKING GENUINE PIT – SMOKED, SLOW AND LOW,
WOOD FIRED BBQ HERE FOLKS!!
So at your leisure, please check out OUR MENUS, and PICTURES OF ARNOLD, AND KEEP US IN MIND FOR YOUR NEXT Barbecue OR CLAMBAKE, HERE AT SMOKIN DAVE'S WE DO IT RIGHT, hope to see you real soon!!
FOLKS PLEASE REMEMBER these very important points:
IT'S A JOKE WITHOUT THE SMOKE!!
If your grillin, you ain't barbecuing!!
LIFE'S TOO SHORT TO EAT BAD OR WRONG BBQ OR CLAMBAKES!!
SEVEN DAYS WITHOUT FISH MAKES ONE WEAK!!
FYI: at SMOKIN' DAVE'S WE USE OUR VERY OWN RUBS & BBQ SAUCE'S
We provide complementary cornbread and watermelon with all our BBQ and Clambake menus.
A first-time client discount is also available.
"Let us do the grillin, so you and yours can do the chillin"
Look forward to seeing you soon,
Smoking Dave and Crew!!
Gallery
(Click on image to enlarge.)