Smokin' Dave's BBQ & Clambakes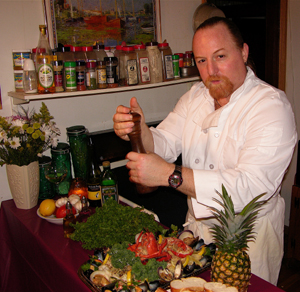 Hello to all of our prospective clients, welcome to our home on the web. Here at David's Catering we are equipped to provide our customer's with a variety of Catering services. We are noted for excellent food at reasonable prices. We are also eager to make special arrangements to meet the specific needs of our Customer's, whatever they might be. We have been in the Catering Business since 198O. Our Executive Chef and Founder David Sammarco is a Graduate of the prestigious Johnson & Wales Culinary Institute. Chef David has been in the food service business for over thirty years, and has worked in small gourmet Restaurants, such as found on Newbury Street in Boston Massachusetts and Paris France, to larger resort types such as found on Captiva Island Florida.
Chef David has also owned and operated his own establishment specializing in Northern and Southern Italian Cusine. In addition to unsurpassed Italian Cusine we also offer Classic French, Chinese, Mexican, All American favorites, as well as traditional New England Clambakes and/or Genuine Southern BBQ. Chef David has also apprenticed in Italy and has won national and local awards for his Cooking Shows, Chili and BBQ. He has made appearances on Current Affair, Entertainment Tonight, The Good Day Show, and A Closer Look as well as being featured in People Magazine.

We are available for a multitude of functions, from intimate Candlelight home Dinner gatherings, or moderate to large home Dinner parties, as well as Buffet's and Banquet's where the client would rent out a function hall for the day or evening. Our staff is Professional, clean, friendly and accommodating. We Cater all types of events, from Weddings, Showers, Bachelor, and Bachelorette parties to Award ceremonies or any other type of Social gathering. We are also equipped to provide Personal Chef services for busy families or for a last minute situation. We are able to travel from State to State, or Cross Country if required by a particular Event. We are in complete compliance in regards to being insured and Serv Safe Certified. We also offer entertaining home Culinary instruction, perfect for Brides, or grooms to be, girls or guys night out, or for those who just wish to learn, eat well and have fun in the privacy and comfort of their own home, or location of choice .
Thank you so much for taking the time to visit our website, feel free to review the site at your leisure, we look forward to hearing from with regard to your future Catering requirements, let us bring the Five Star Restaurant to you, so you and your friends or family can relax and be worry free, wouldn't it be nice to enjoy a fine Dinner with all of it's accruements and not have to worry about driving home!!!
We await your call,
Respectfully yours,
David's Catering