Perfect for families where both parents work full time, the elderly, very busy people, or for folks who simply hate to cook. But Chef David loves to cook so please read on!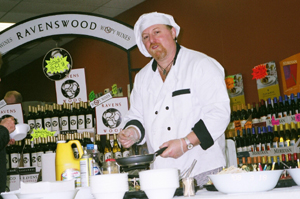 The Private Chef program works like this:

We will help you plan a meal for anywhere from 3 to 5 days or more. We will then buy all the food making sure that it's as fresh as can be and show up at your house on a pre determined time and cook all the food you'd like in your own very kitchen all within a few hours. We will then proceed to clean your kitchen, cool the food properly, safely and put all your tasty treats in labeled containers and store in your refrigerator ready to heat and serve, leaving you with the option to eat it all yourself, serve it you your family, bring it to a friends' house, just throw a party without any of the work and clean-up or you can freeze it and serve it at a later date.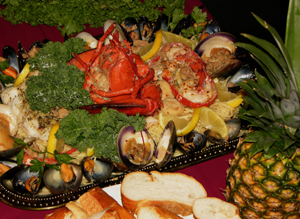 The beauty of letting Chef David be your private chef is that everything is up to you from which food you wish to serve to when you wish to serve it. Chef David will leave you to pursue the more important matters of life. The main thing is that you will not have to worry one bit about going hungry or not having a heap of tasty vittles in your ice box.

Chef David can prepare gourmet delights such as Shrimp Scampi, Chicken Marsala, or Linguini as well as Blue Plate favorites such as Pot Roast, Meatloaf and baked macaroni and cheese.

Vegetarian dishes are also available. Try my program once and you will become a convert.
Click here to see some of my offerings.
NOTE: The pricing of the Private Chef program is quite different then the regular Catering Menu. So if interested in the Private Chef services please contact Chef David for clarification.
I am also available for intimate Candle Light Dinners and/or small gatherings of freinds or families featuring proper Table Service and Fine Dining or Buffet Style if requested !!