Smokin' Dave's BBQ & Clambakes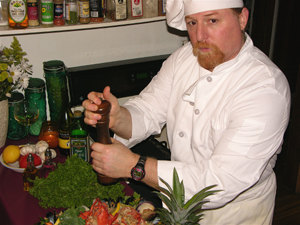 This program is called:
U-CAN-CHEF. Warning: U-WILL LEARN.
Learn to cook in the Privacy or your own Kitchen and have tons of fun in the process. Call it class, call it a social gathering, call it a blast, call your friends. Perfect for Bachelorette Parties, Brides to be, Girl's Night, out or simply for folks who, allegedly, don't know how to boil Water. Great for those who wish to pick up some of the invaluable trade secrets Chef David has picked up during his 25 years of Food and Restaurant experience.

Available for 1 to 14 Students or 1 to 7 couples. The more students we have in class the lesser the cost per student per hour. Each class generally runs 3 to 4 Hours. Mock diplomas are then handed out after class!!

Learn Southern and Northern Italian Cuisine, as well as Chinese, Mexican, All American and Cajun. Learn the complex art of Sauté' In one night. Learn how to flip an Omelet with out Utensils, as well as other techniques of cooking such as Baking, Broiling, Searing, Braising, Poaching, Steaming, Pan Frying, Roasting, Deep Frying, Oven Frying, Blackened Styles and more.

Learn techniques to cook Fish, Shellfish, Chicken, Vegetarian Dishes, Low Fat or No Fat, Pasta, Sauces, Appetizers, Salads, Soups and Chowders as well as various Meats. Learn various methods to use a knife, cutting veggies, slicing, dicing and chopping, as well as the proper way to use spices and wines, as well as French Culinary terms and Industry slang and jargon. Learn shortcuts that are not really short cuts, and so much more. Chef David will be only more than happy to explain in greater detail this particular service. Simply contact him to that regard. If requested Chef David can also bring his Acoustic Guitar over for after class entertaining.